Developing a wind energy project is complex.  There are numerous elements to the development process, all of which must come together in order for the development to proceed to construction and then to operations. Site Selection:  Is this the right location?
An ideal site is obviously one with evidence of a significant wind resource.  But beyond that, the following considerations also need to be taken into account to determine if a site is suitable for development: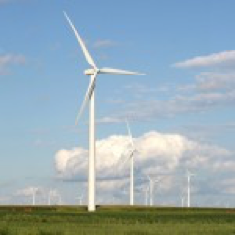 • specific terrain
• proximity to and available capacity on transmission lines
• access to roads
• environmental aspects of the site
• local, state and federal permitting requirements
• general support of the local community
Flexible Landowner Agreements: How will land agreements be arranged with the landowner?
TGP works closely with landowners to understand each landowner's unique circumstances and needs.  Our wind energy projects provide an additional source of landowner revenue while preserving existing land uses. We take pride in working closely with the landowner throughout all phases of a wind project.  Typical easement or lease agreements have a pre-construction period during which TGP pursues permitting, grid connection, power sales, renewable resource assessment, site design and other activities.  The pre-construction period is followed by construction and then operations, which typically lasts for 30 years, with options for the project to extend up to 20 additional years at the end of the initial term.
Wind Resource Assessment:  Is there enough wind?
TGP's wind resource specialists will visit a site to analyze the site's characteristics.  Sophisticated terrain and wind flow models are used to estimate wind speeds and energy output.  Site-specific studies are performed by installing one or more meteorological towers on the site to collect wind speed and direction data.  A minimum of one year of wind data is typically analyzed to determine the economic feasibility of the project.
Environmental Review:  What are the potential environmental impacts of the project?
TGP conducts environmental reviews at potential sites in order to ensure that a potential project is compatible with the local environment.  Such reviews help identify any threatened or endangered species on the site, historical or archaeological features, and any types of bird and bat species or wetlands likely to be impacted.  The results of environmental assessments are used to determine whether a particular site is compatible with power generation, and if so, to establish a site design that will minimize potential environmental impacts.

Economic Modeling:  Do the economics of the project support continued development?
Once key project characteristics are understood, TGP estimates project electrical output, revenues, and construction, operating, and financing costs.  These revenues and costs are then input into a sophisticated financial model to determine whether a project is economically feasible for the market into which it sells electricity.
Interconnection Studies & Transmission Agreements: Can the electricity generated by this project be transmitted to the utility grid?
TGP conducts electrical engineering studies to confirm whether the transmission grid can accept additional electricity.  We then initiate a formal study process with the utility that ultimately results in an agreement to allow the project to connect and transmit electricity into the utility grid.
Permitting:  Can the necessary permits be obtained for the project?
TGP determines what permits are necessary and what environmental reviews and studies are needed or recommended to address environmental and permit requirements.  Permits may be required from local, state, and federal authorities and can include land use, environmental, building and other permits.
Power Sales Agreements:  Is there a utility customer for the electricity generated on the project site?
A reliable and creditworthy power purchaser or "liquid" energy market must be identified.  Power sales agreements are entered into with electric utility companies or power marketers who purchase the electricity, typically over long-term contracts.  TGP's principals have originated and negotiated power purchase agreements for numerous projects across the U.S.
Project Financing:  How will financing be arranged?
Access to capital is critical for renewable energy projects.  Financiers will consider the development team's track record and proven success.  TGP's experience encompasses development and construction finance, term loans, and highly structured equity investment.  TGP's principals have been involved in the purchase, sale, development and financing of thousands of megawatts of wind energy projects in the U.S. and overseas, and have developed strong relationships with a select group of financial institutions and energy companies in the financing of power projects.
Turbine Procurement and Construction:  What is the best wind turbine for the site and who is the best contractor?
TGP is not affiliated with any single wind turbine manufacturer.  This independence, combined with our experience working with all of the major wind turbine manufacturers, allows us to procure the most competitive, reliable, and technically suitable equipment for each project.  In addition, we have extensive experience negotiating engineering, procurement and construction (EPC) contracts for wind projects, and working with the major EPC contractors.
Site Design:  How are the locations of the wind turbines chosen?
Wind resource data, extensive field experience, and sophisticated terrain modeling software are used with consideration of landowner requests, environmental sensitivities, and/or permitting constraints to determine the optimal location for each turbine.