Commercial and Utility Solar Construction
Full Service Contracting
You secured the agreements. The plan is approved. Your building rooftop, parking lot, or undeveloped acreage is about to become a solar energy facility. Now you need a trustworthy technical solar company, one that will engineer the details and deliver a complete turn-key solar project.
Initial Evaluation
Site Assessment

Our experience with rooftop, parking canopy, and free-field solar facilities has shown that there are unique nuances to each type of site. The Trans Global Contracting Inc. design team will conduct a detailed site assessment and review, taking into account any major risk factors and technical feasibility.
Preliminary Design
At Trans Global Contracting Inc. we take pride in assisting our customers in making informed decisions. Using the site assessment data, we determine the best equipment for the project and optimize design specifications to meet the estimated cost and Return on Investment (ROI).
ROI Report
Our analysts finish by researching rebates and incentives and working with internal estimators to fine-tune delivery costs. At the end you will receive a comprehensive financial analysis illustrating your solar ROI.
Engineering and Permitting
Once the project is launched, the Engineering and Construction Documents stage is critical to define the project and outline a schedule. We are experts at submitting and managing the required applications for solar project interconnection and construction. Typically, we manage the full permitting scope of a project while keeping a continual dialogue with our customers.
Project Execution
Safety
The work we deliver at Trans Global Contracting Inc. is only as meaningful as the safety practices we employ. Our safety culture and training extends throughout the company and comes to fruition at the jobsite. Onsite, you will notice our regular practices and consistent methods for controlling and maintaining site safety and security.
Teamwork
Our construction team's success stems from being an integrated group of developers, engineers, project managers, journeymen electricians, and site superintendents; experts who are solely focused on commercial and utility scale solar photovoltaic systems.
Mobilization
We enter a site in a very logical and calculated manner. All of our storage facilities, staging areas, job site trailer locations, and facilities have been pre-planned and pre-approved. Mobilizing the job site also includes managing job site traffic and installing fences or other safety controls.
Project Management
A single Project Manager will be your point of contact through the entire commercial and utility solar project delivery process, linking all activities between project development, contracting, engineering, construction, and close-out.
Site Superintendents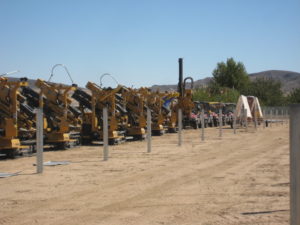 Trans Global Site Superintendents are certified journeymen who are passionate about constructing commercial and utility scale solar facilities. The site super manages day-to-day activities and administers our Quality Assurance and Quality Control plan.
Details
When completing a project there are many details that demand attention, including scheduled utility outages, system start-up, communication connections, rebate paperwork, and independent engineer inspections. We build these tasks into the schedule and utilize specific processes to manage each one.
Close-Out
The close-out process includes securing the final documentation and cleaning up any remaining details at the site. We are determined to leave our project sites in better condition than we found them, every time.
Warranties
We offer a solid material and workmanship warranty for the projects we construct. Solar module warranties are available at 20 or 25 years depending on the manufacturer. The remaining components come with one-year to five-year warranties.
Performance Guarantees
A solar energy performance guarantee is your primary security for ensuring long-term system performance. We offer a several levels of performance guarantees for Trans Global Energy-constructed projects where we are retained for the system's ongoing Asset Management.